Follow my blog with Bloglovin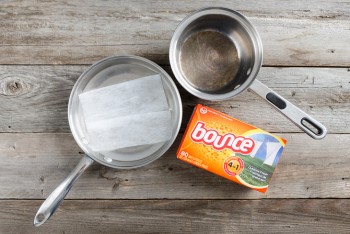 If you have some dishes that have some food that just won't come off, then this hack may just change your life! Put a dryer sheet at the bottom of the pot or pan and fill it with hot water. Let it sit overnight and the stain should come easily out the next day.
Cut a lemon and pour some kosher salt on your cutting board. Use the lemon half to rub the salt into the board. This helps clean, disinfect, and deodorize your cutting board without harsh chemicals!
To polish your stainless steel appliances, use some cream of tartar! Simply apply it to the surface and buff it with a cloth. Wipe of any excess cream of tartar.
Shower curtain liners can get pretty nasty pretty fast. Instead of tediously wiping it down, just throw it in the washing machine to get it clean!
Use a pillowcase to clean dust off of your fan blades. Just wrap the pillowcase around each blade and then pull back; the dust will collect at the bottom of the pillowcase!