Follow my blog with Bloglovin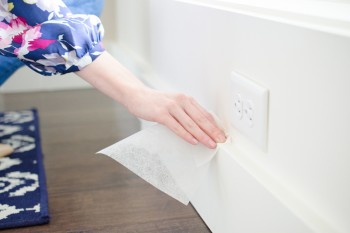 Use a dryer sheet to rub down your baseboards. This not only removes gunk from them, but also picks up dust and helps prevent dust from settling there in the future.
Fill a bag with vinegar and then wrap it around your showerhead. Leave it there for a while and then simply remove the bag. Your showerhead should now be less clogged and work better!
Apply some car wax to your glass stovetop once you've cleaned it really well. This will help keep it shiny and also prevent any spills from sticking and staining.
Mix together some Dawn dish soap and a bit of warm water. Dip a rag in the mixture and use it to remove any grease or other sticky stains from your kitchen cabinets.
To prevent water stains on your shower door, use Rain-X! Just apply it to the inside of the door and the water will roll right off, making it stay cleaner longer.