Follow my blog with Bloglovin


If you have a glass door on your shower, you might have a love-hate relationship with it. It's easy to close, it keeps the rest of the bathroom dry, and it looks great — when it's clean. And there you have the caveat. Keeping your shower glass clean and streak-free can be a time-consuming hassle, but thanks to these tips, you can keep it looking great with less pain!
1. Get Rid of Buildup
You can get rid of soap-scum buildup by mixing a 1:1 ratio of distilled vinegar and a grease-cutting dish liquid, like Dawn. Scrub it on with non-abrasive sponge and you'll get rid of buildup fast. However, if your shower is made of stone, the vinegar could cause damage. Instead, go for the liquid soap mixed into a frosting-like paste with baking soda.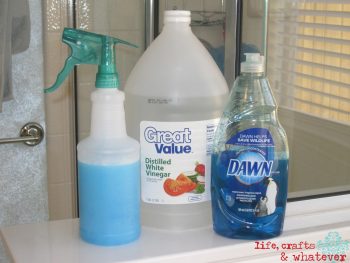 2. The Lemon Solution
Another way to clean your shower door is to cut a lemon in half and dip it in baking soda. Rub it on the glass and once you get it clean, you can rub some lemon oil on it to repel further soap scum.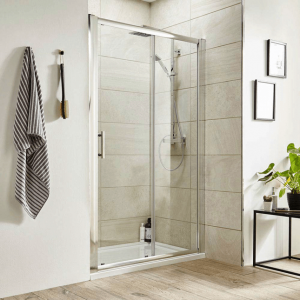 3. Daily Shower Spray
Whether you buy it or make it yourself, a daily shower spray after the last shower of the day can help extend the time between required cleaning. It really does work, and it's a lot easier than scrubbing.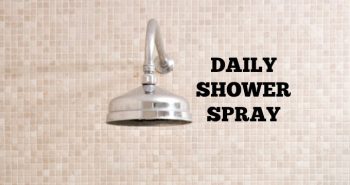 4. Squeegee Like Crazy
After you clean your shower door, the best thing you can do is use a squeegee on it to get all the water off. This will prevent hard water and soap scum from drying onto the glass, making it difficult to remove. Keep a shower squeegee in your shower stall, and use it after you shower. In fact, do it right after you turn off the water and before you step out. It only takes a couple of minutes.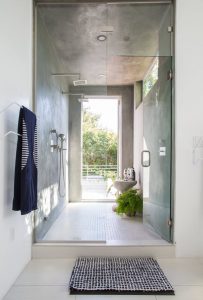 Get more help in the bathroom with these tips and tricks:
14 Ways to Store Your Bathroom Towels
10 Tips that Will Help Clean Your Bathroom Like a Pro