Follow my blog with Bloglovin


Most of us have at least one pair of canvas shoes. Whether your favorite pair happens to be Converse, Keds, Toms, or Vans, they tend to get dirty fast. Fortunately, this type of shoe is one of the easiest to keep clean. If you've ever wondered about the best way to get yours looking new again, here's how to clean and care for your canvas shoes.
1. Use Care
Just because you can wash canvas shoes doesn't mean you can throw caution to the wind in doing so. In fact, Tom's does recommend hand washing, so put them in your washer at your own risk (though many people do it just fine). However, it's always best not to put your canvas shoes in the dryer.

2. Before Washing
Grab an old toothbrush and remove any caked-on dirt before you wash. If you have stains, you might want to pre-treat those with your favorite stain remover. Just test it first on a less noticeable area to make sure it won't harm the canvas or your color. For the soles, make a paste of baking soda and water and brush away the dirt from the bottom of each shoe, then rinse.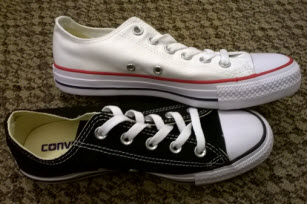 3. Let Your Machine Help
You'll be running your shoes through your washing machine on the gentle cycle with cold water. Use a mild laundry detergent, but use about half what you would use for a normal load. When the machine is done, let the shoes air dry. Putting them in the dryer could affect any adhesives as well as shrink your favorite shoes, and nobody wants that! It will take longer, of course, but your patience will be rewarded with clean shoes that are still in good shape. If you like, put them on your back porch and let them dry in the sun.