Follow my blog with Bloglovin
Cleaning can become a little counterproductive when you go into the space below your sink and can't find anything you need. And then you realize you have a new project—organizing under the kitchen sink! Here are some great tips to get it organized so that, when you do go to clean the rest of your house, you won't have any issues!

Empty and Clean
First things first is to empty the whole space out and clean it up! You'd be surprised at how much gunk and grime can get under the sink even with all those chemicals and cleaning agents. Make sure that the pipes are secure and nothing is leaky; that can be a nasty mess if there is one!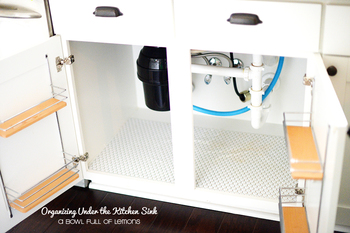 Throw Away
Once you've clean out the space, it's time to purge all your cleaning supplies. Throw away anything that is expired, broken, leaking, moldy, etc. We often forget about supplies under our sink so it's easy for them to have issues that go unnoticed. If necessary, buy replacement supplies.
Bins and Baskets
Next, divide the space into sections. You can do this numerous ways. You can divide cleaning supplies by what they're used for (scrubbing, sanitizing, disinfecting, etc.) or divide them by where they're used (bathroom supplies, kitchen supplies, etc.). Develop a system you like and that works for you and then stick with it!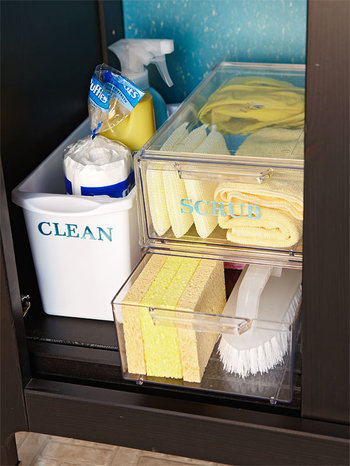 Hang
Take advantage of all the space under your kitchen sink by using organizers that stack upwards and attaching hooks and clips to the walls. On the hooks, you can hang gloves, rags, brushes, or anything else that fits on them. I like to use Command Hooks.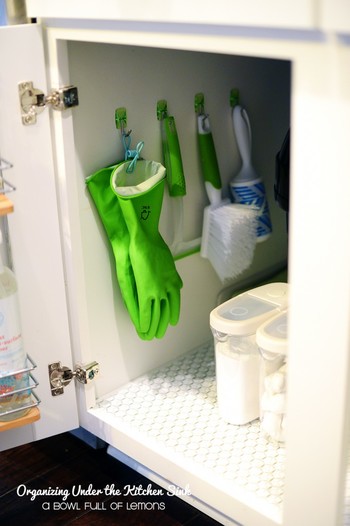 Door Rack
Buy a door rack to nearly double the amount of storage space under the sink. I would suggest using these door racks to store your most used cleaning supplies, that way you can reach them easily. Digging through a mound of other material to get the dustpan you always use can be extremely frustrating and deter you from cleaning.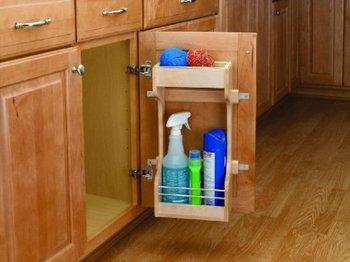 Extra Material
Although it may seem like a good idea, don't fall into the trap of cramming all your extra cleaning supplies into the space under the sink. This can make things crowded and really messy. Instead, find a small spot in a bigger closet or drawer to store the extra supplies in. Then, when you run out, just go ahead and restock!