Follow my blog with Bloglovin
Routine, routine, routine! That's what my mom is constantly saying to me. In the spirit of that, I went on the hunt for a really good cleaning schedule. Here are my top 5.

Classy Clutter had this great one. This one breaks it down room by room for each day of the week. It's really nice for making cleaning manageable so that it stays clean without you needing to spend all day doing it.
This next cleaning schedule from Squirrelly Minds is really good for remembering the details. Cleaning the baseboards or window sills is just as important as the vacuuming or dusting. This cleaning schedule is great for that.
I loved this post from Living Well Spending Less because it talks about how to create a cleaning schedule that works for you. Not everyone can do it the same way and it's important for us to take our lifestyle into account. The little bit of cleaning every day may work for a stay at home mom, but if you're working every day the evenings could be your sacred relaxation time. This will teach you the best way to keep on a schedule.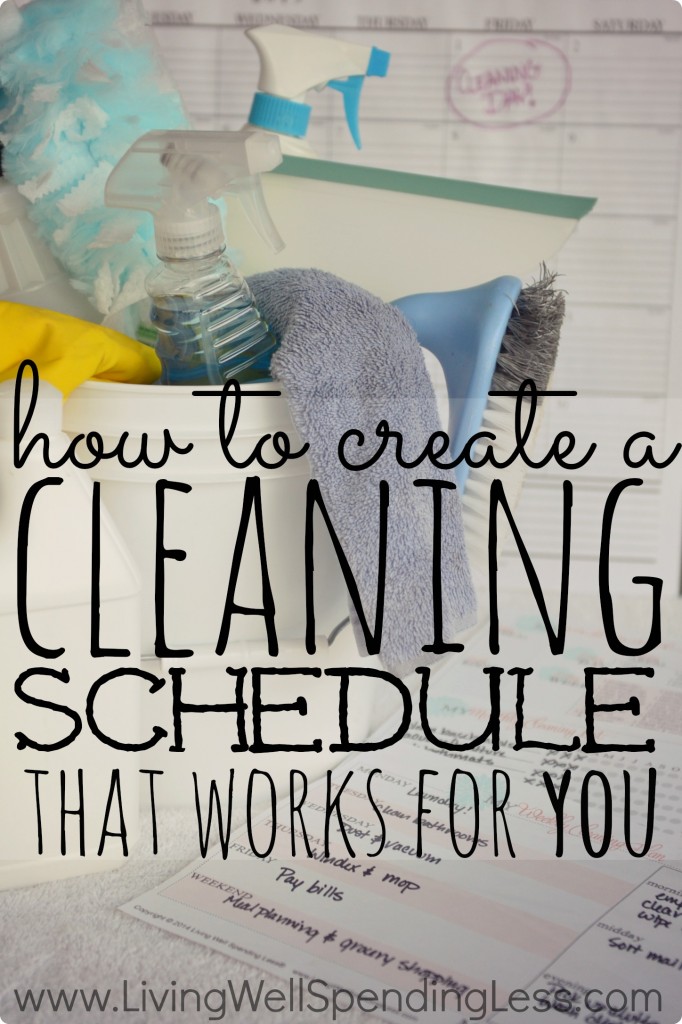 This next one is from The Chic Stay at Home Mom. It's really easy to follow and looks to be about as easy as anything to follow. I like that it gives you a swing day so that you can do all the details on whatever day you want. 
And finally, the most helpful thing I found in my search was this post from All You that tells you how often each item in your house needs to be cleaned. It gives you a general idea of how a cleaning schedule should look and how often large things need maintained.